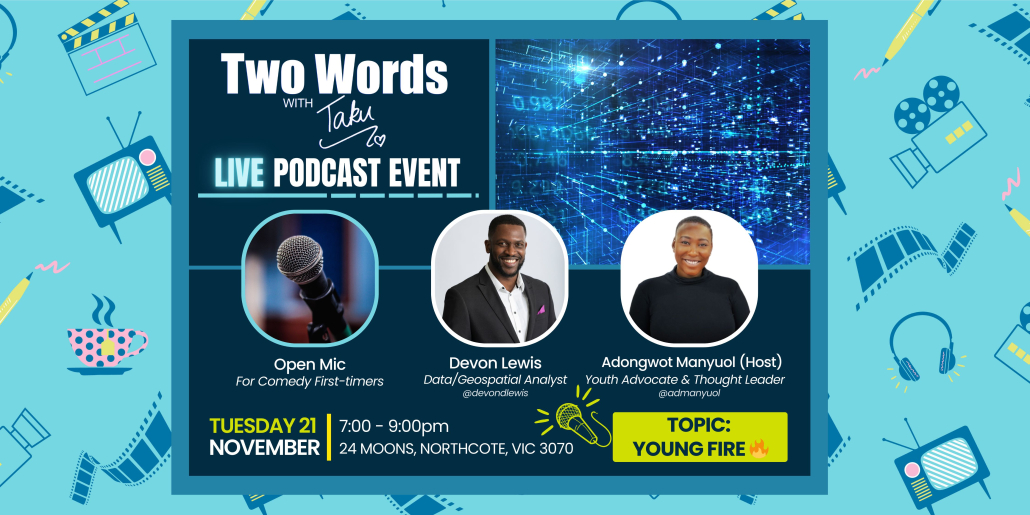 As an ode to World Children's Day on 20th November, join dynamic youth advocate, thought leader and broadcaster Adongwot Manyoul for a chat about the power of young people and their voices, in a world of rapidly-changing technology.
Tickets: https://events.humanitix.com/two-words-with-taku-young-fire
Our special guest for this episode is Devon Lewis, a pioneering IT professional and the Chapter Lead for Blacks in Technology Australia, a non-for-profit championing diversity and inclusion in the tech industry, providing invaluable resources, and a safe space for black professionals to connect.
ABOUT THE PODCAST
Taku Mbudzi is a writer, filmmaker and podcaster who uses humour to inspire young people to speak up and out for themselves. She has 17 years' experience sharing her stories and teaching public speaking in schools, libraries and youth organisations across Australia.
Started in 2017, the podcast Two Words with Taku has more than 100 episodes, 30 guests and 40+ hours of audio content to date. Taku discusses storytelling and writing with her creative collaborators and community. Her previous guests have included film directors, screen producers, authors, actors and comedians.
Subscribe to Two Words with Taku on Apple Podcasts, Spotify, Google Podcasts, Amazon Music or wherever you find your favourite podcasts.
ABOUT YOUR GUEST HOST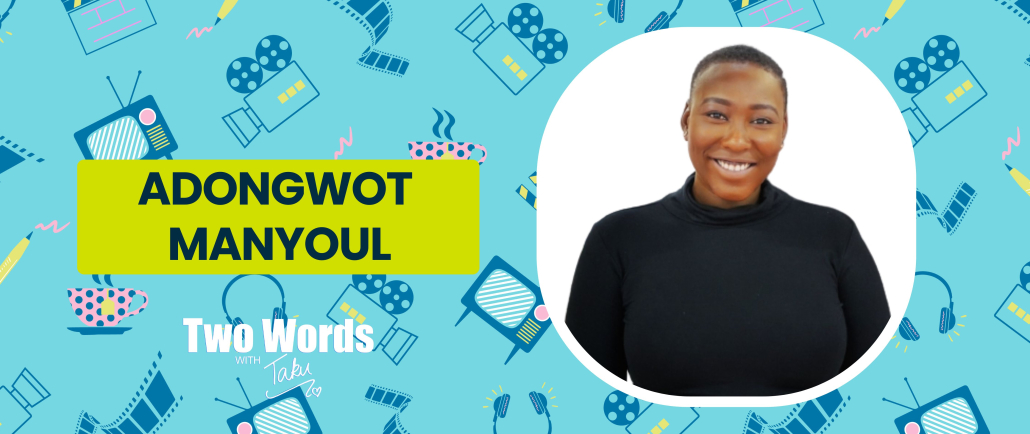 Adongwot Manyuol is an experienced communications professional, youth advocate, and thought leader. As a bi-cultural consultant, public speaker, radio host, and MC, her passions lie in supporting the community to achieve social cohesion through the elimination of racism and discrimination and promoting intergenerational dialogue.
As a South Sudanese-Australian woman, Adongwot speaks from a combination of experience navigating traditional and Western culture in Australia and her academic standing in Communications and Journalism. In 2019, Adongwot was awarded a Churchill Fellowship to travel the world investigating ways in which other Western Societies have successfully achieved social cohesion- the African Diaspora as the focal point to further bolster her contribution to the Australian fabric.
Adongwot now shares her stories and experiences to inspire and empower. She spends her time mentoring the youth, hosts a radio show that provokes conversation on a range of social justice issues, provides consultancy services to government and community organisations dedicated to change, and sits on a number of advisory and steering committees.
In 2022, Adongwot started a disruptive social enterprise, which aims to radically change the approach to racism/ diversity and inclusion training. Providing a series of workshops, seminars, and keynotes aimed at diverse age groups and divergent backgrounds, she explores the concepts of race and prejudice by walking in each other's shoes through interactive activities and conversations that challenge young people to critically assess their identity.
ABOUT DEVON LEWIS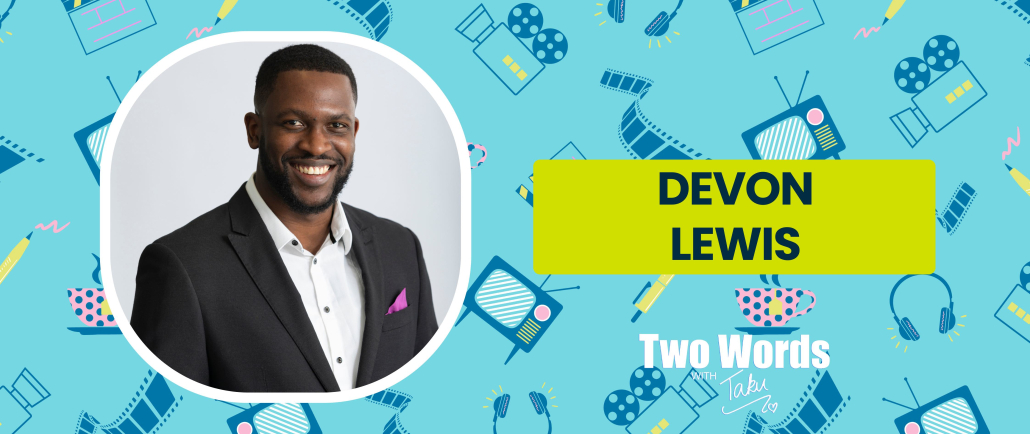 Devon Lewis, a resilient individual, has carved an extraordinary path from Guyana to Australia at the age of 17, making Melbourne his cherished home for nearly two decades. With a background in Telco as a Data/Geospatial analyst, he has transitioned his career towards two key pillars.
Firstly, Devon is a passionate advocate for diversity and inclusion in the tech industry, currently serving as the Chapter Lead for Blacks In Technology Australia, a non-profit. His leadership extends far beyond authority, emphasising empowerment and support.
Secondly, as an Implementation Lead at Coles Group, he skilfully manages IT projects, striving for optimal results and continuous improvement. His commitment to professional growth is evident through his pursuit of a Diploma in Project Management.
Beyond his professional endeavours, Devon's adventurous spirit is showcased in his love for challenging activities like hiking, camping, bush survival training, and marathon running. He firmly believes in the transformative power of venturing into the unknown, both in his personal and professional life.
Devon Lewis is a true testament to the rewards of embracing uncharted territories and unwavering growth.
IS THERE REALLY AN OPEN MIC?

Yes! After the conversation and Q&A, there are three 5-minute open mic spots if you want to try standup comedy for the very first time. Simply add your name to the list on arrival, and you'll be in the draw for a spot.
Taku Mbudzi is producing this event and is an advocate for creating safe spaces. To ease your nerves, the open mic part of the night won't be recorded.
See you there!
_____________
Please note: this event will not be live-streamed. All recordings will be edited for clarity later, and not all comments or parts of the conversation will be included. The episode will be published in Season 5 of Two Words with Taku, due out later this year.
https://taku.com.au/wp-content/uploads/2023/10/Two-Words-with-Taku-Podcast-Live-Young-Fire-Adongwot-Manyoul-scaled.jpg
1280
2560
Taku Mbudzi
https://taku.com.au/wp-content/uploads/2015/08/takulogo.png
Taku Mbudzi
2023-10-30 11:08:00
2023-12-05 22:44:33
Young Fire: Live Podcast Event in Melbourne