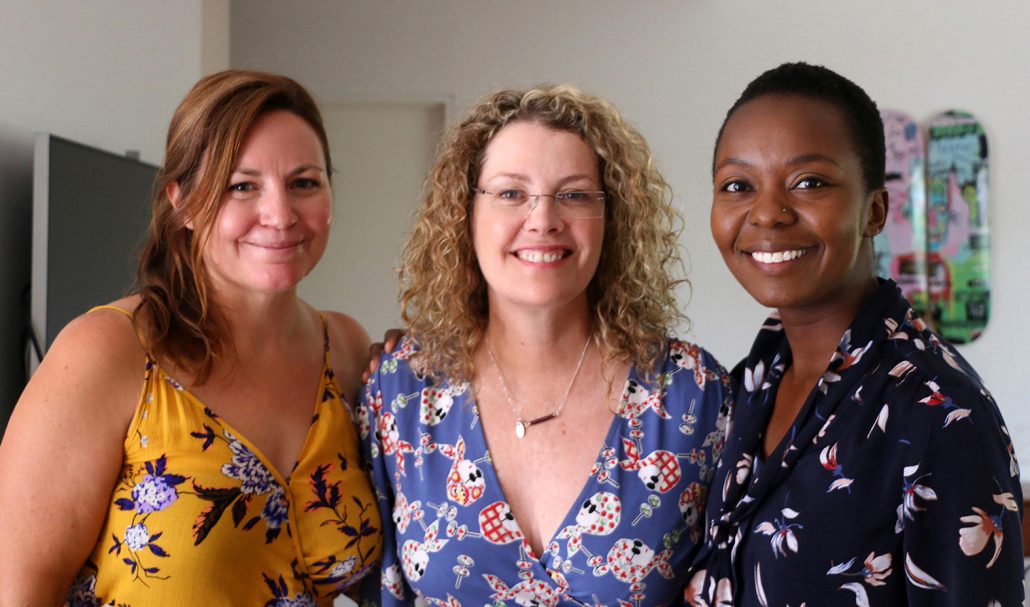 Daina Reid is an award-winning Australian TV and Film Director.
And she's just lovely! In this interview, she shares how a Tropfest short film led her to leave acting and become a director. She talks about her recent work on SBS's Sunshine TV drama and what she learnt working with the South-Sudanese community in Melbourne. Later in the interview, Daina explains some of her directorial and technical decisions for filming comedy shows. Less is more! It was also interesting to hear her thoughts on casting and what it's like working with non-actors compared to established actors like Asher Keddie (Offspring; Paper Giants).
I met Daina when I attended her Directing Masterclass a few weeks ago. Learning more about directing is really changing how I write my stories. In this episode, you may hear my fellow classmate Kylie in the background who came to film the interview with me.
---
Some of Daina's Film and TV Work
Find more about Daina Reid on her IMDB profile: http://www.imdb.com/name/nm0717225/<
Miss Fisher's Murder Mysteries (ABC TV)
Fledgling detective Phryne Fisher is known for her sharp wit and pearl-handled pistol, which she uses to fight injustice in Melbourne during the 1920s. The glamorous sleuth makes her way through the city's alleyways and jazz clubs while she fights crime as part of a larger mission — making sure that Murdoch Foyle, who she believes is responsible for the disappearance of her younger sister, stays behind bars. She fights for justice for people who can't help themselves, including exploited workers and missing girls.
Sunshine (SBS)
Sunshine is based in Melbourne's outer-western suburb of Sunshine and its surrounds. The story follows Jacob Garang, a young, aspiring South Sudanese-Australian basketballer who is on the cusp of being picked up by scouts for the US College league. He gets caught up in a police investigation involving a teenage girl from one of Melbourne's affluent suburbs.
The Wrong Girl (Network 10)
The series follows Lily Woodward, a producer on a morning television show, and what happens when life, love and friendships collide. Longing for a life rich in romance, a dynamic career and a happy family, Lily is constantly thrown off course. As her journey continues, Lily discovers that sometimes the right choices can lead to the wrong places and the wrong choices can turn out to be the right ones.
The Secret River (ABC TV)
This two-part miniseries is based on the novel of the same name written by Kate Grenville. It follows the story of young couple, William and Sal Thornhill, who are transported to the new colony of New South Wales in 1805, giving a look into the colonisation of Australia and the escalating conflict between the original Indigenous inhabitants and the newly arrived white convicts and settlers.
Romper Stomper (Stan)
Romper Stomper is an Australian television series sequel to the 1992 film Romper Stomper movie and and set 25 years after the events in the film. The six-part series follows a new generation of far-right activists and their anti-fascist counterparts, with the story focussing on a fictional far-right group led by Blake Farrand known as Patriot Blue.
References: Wikipedia and IMDB
https://taku.com.au/wp-content/uploads/2018/01/Daina-Reid-Kylie-Wickham-Taku-Mbudzi-Podcast-Interview.jpg
928
1575
Taku Mbudzi
https://taku.com.au/wp-content/uploads/2015/08/takulogo.png
Taku Mbudzi
2018-01-31 17:08:02
2019-10-04 22:10:11
Episode 68 – Daina Reid on Directing Australian TV Drama, Comedy and Sunshine