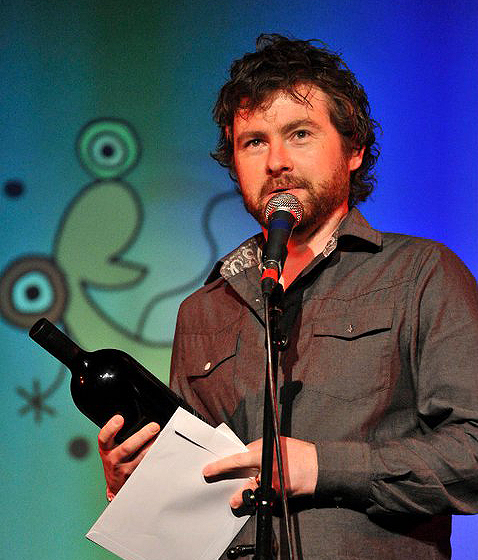 Lawd have mercy – Gerard McCulloch is finally on my podcast!
He is one of Australia's most in-demand TV comedy writers and editors. His credits span sketch, variety, current affairs, quiz, sport, and award ceremony formats.* In this first episode we discuss how his career in comedy started and his work on iconic Aussie sketch comedy shows. In the second episode we mainly chat about satire and his work on The Weekly with Charlie Pickering. Listen to Part 2 at https://taku.com.au/gerard-mcculloch-screenwriting/.
Follow Gerard and his world at https://twitter.com/drjavabeans.
---
Um…so why am I so excited?
I haven't said anything about it all year, but Gerard's the one person I've really wanted to interview about writing. When I moved to Melbourne to do this whole 'TV thing' I sussed out who was doing what I'd like to do and his name kept coming up. But I didn't have the courage to follow him on Twitter or send an email – it just didn't feel right.
Then a couple of weeks ago I was at an animation workshop and spent the whole day with Gerard – but I didn't recognise him. (That's a story in itself) We spent the day brainstorming a kids' cartoon series with 6 other screenwriters and it was great fun. Gerard was funny and quirky and at the end of the day we were 2 of 3 people pitching our pretend kids' show to a big producer guy.
Anyhow, when we were all at the pub after the workshop, Gerard subtly mentioned something about The Weekly and then the penny dropped. Seriously, that will go down in history as the worst/best fan girl reaction I have ever had. Honestly. It was awfully epic and epically awful.
Long story short, I was stumped at how we'd seredipitously ended up in the same group. I was stumped that I'd actually gotten a sense of how his ideas might come to him in a writer room setting. I was stumped that he HADN'T spent the day dropping names – his incognito mode was on point! And then I was grateful that he'd gotten a chance to know me (albeit briefly) during the workshop.
So when I asked if I could interview him on my podcast, it just felt right.
---
Gerard's TV Writing Credits
The Weekly with Charlie Pickering, Thinkative Television/ABC TV.
Family Feud, FremantleMedia Australia / Network Ten.
The 2014 Pub Quiz, ABC TV.
Friday Night Crack Up, ABC TV.
Dancing With The Stars, FremantleMedia Australia / Seven Network.
Dirty Laundry Live, ABC TV.
This Week Live, Guesswork Television / Network Ten.
The (7PM) Project, Roving Enterprises / Network Ten.
Rove Live / Rove, Roving Enterprises / Network Ten.
Are You Smarter Than A 5th Grader?, Roving Enterprises / Network Ten.
Before The Game, Roving Enterprises / Network Ten.
2006 Rove Live Launch, Network Ten
(Winner, Gold Muse, best on-air programme campaign, 2006 Promax BDA Awards Australasia)
2006 Motorola ARIA Awards, Roving Enterprises / Network Ten.
2005 Tsunami Telethon, Roving Enterprises / Networks Seven, Nine and Ten.
Skithouse, Roving Enterprises / Network Ten.
2002-04 Annual ARIA Music Awards, Roving Enterprises / Network Ten.
Totally Full Frontal, Artist Services / Foster Gracie, Network Ten
Full Frontal, Artist Services / Seven Network
Eric, Artist Services / Seven Network
*Bio and writing credits from his website http://gerardmcculloch.com/
---
https://taku.com.au/wp-content/uploads/2017/10/Gerard-McCulloch-Stand-up-Comedy-Writer.jpg
560
478
Taku Mbudzi
https://taku.com.au/wp-content/uploads/2015/08/takulogo.png
Taku Mbudzi
2017-10-21 19:56:18
2019-10-04 22:21:28
Episode 60.1 – Gerard McCulloch on Writing Stand-up Comedy, Sketches and Skits