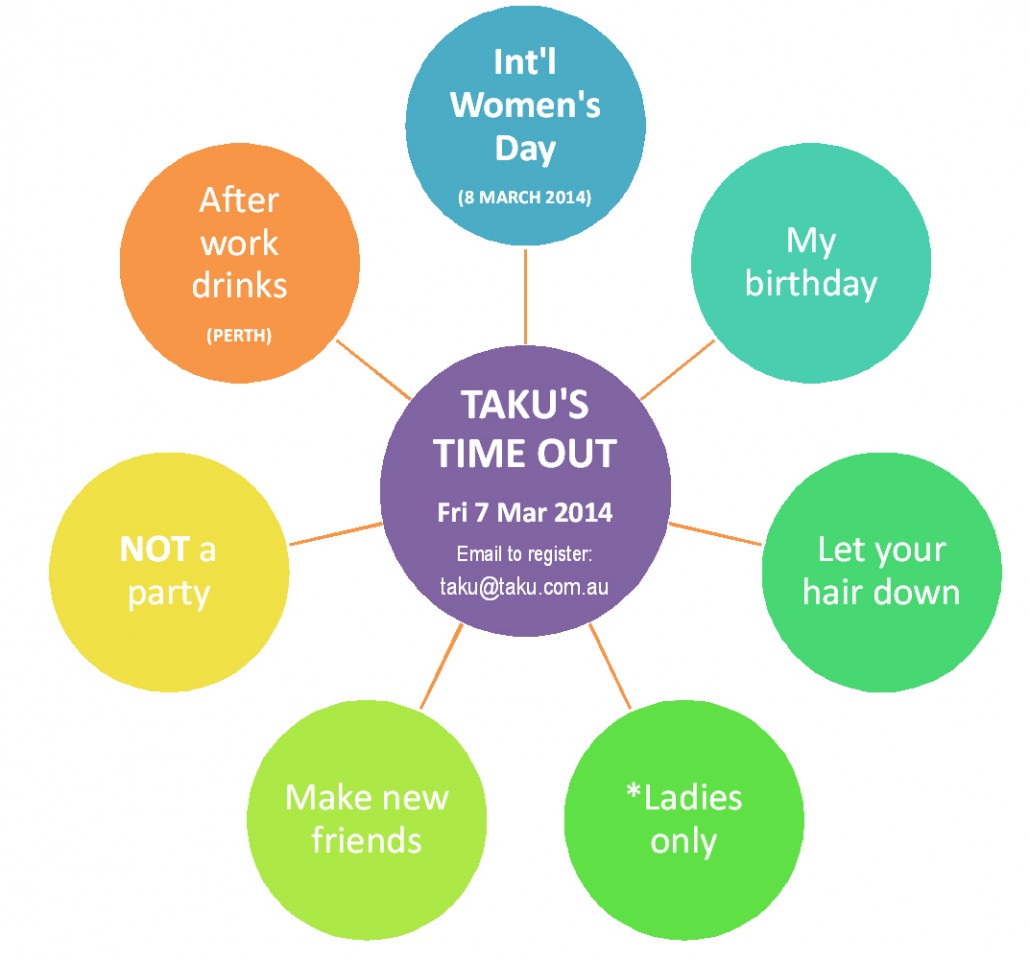 I was born on 8 March which is International Women's Day. I love this day, I love what it represents.
IWD is run by the United Nations and every year they have a global theme. 2014's theme…I have just seen it today…and oh it has definitely stirred my heart…INSPIRING CHANGE.
My joy already comes from inspiring others through speaking and teaching. But how can I continue to inspire others to change without facing my fears and changing myself? Hence this event idea for Friday 7 March.
I have ALWAYS wanted to have a big party or shindig to celebrate the many women in my life, not just my close family and friends. And it's just never happened.
Every year I've dreamt it up to be perfect, at an amazing venue, lots of performers, teeming with celebrities, heavy gift bags – and every time I got round to planning it, it just got too hard. Life got in the way!
So in the past I'd give up, celebrate my birthday with family and friends, then spend another year feeling a tad guilty. What about all those women I'd befriended through Ribbon of Africa, my community, out and about,  through my travels and now through my new site?
Well this year, I've decided enough is enough. I'm going to chase my birthday dream and do something no matter how small it is.
And YOU are invited…
TIME OUT
I always take time out from the world.  I need it. It keeps me sane. I spend it doing a whole host of activities whether writing, reading or walking…or simply sitting with my friends having a glass of wine, contemplating life.
My time out is a chance to stop and breathe. Time out to let the world rush past me whilst I gather my prayers, thoughts and feelings. My time out always helps to put my life and all its happenings into perspective.
My time out is my chance to reset, refocus and refresh before I step out and keep moving.
WHAT?
Taku's Time Out Events will be a chance to escape your busy world and have some fun with me in Perth, Australia. (I travel a bit so they may be in your city/country once in while! :))
This first one is on Friday 7 March in Perth. It is simply an after-work sundowner that will simultaneously celebrate IWD and my birthday. VERY informal, at a local pub or bar – just bring a smile, a little pocket money for your drinks, and I'll get the nibblies and cake.
WHY?
My speaking, writing  and travels have unearthed MANY women who are in desperate need of respite from their lives. Work/career, men, babies, family, other friends, boredom…life in general. The thing I sadly hear the most is how many of you feel as if you don't have [quality] friends or people to talk to.
I think you have been responding overwhelmingly to the experiences I am sharing because I'm the only one crazy enough to do so!
I am definitely no counsellor and my goal is to simply share a bit of my joy with you, how best I can. I'm here to give you an excuse to get away, have some stress-free, fun time out.
WHO?
For you.
If you're ~25-40 years old
If you want to try something new
If you work in the city and sometimes don't have an event to go to after work
If you don't work in the city and want an excuse to come in

If you are looking for some new career, business and study-minded friends and mentors (who are normal and cool)

If you just want an excuse to gather with some ladies once in a while without it being in a nightclub. (No twerking allowed – haha!)

If you're simply curious
The list could go on, but only you will know if you need some time out and want to connect with me. Let me know if you'd like to be on the official guest list and I'll send out the proper invites later. *Ladies only event for now.
WHERE?
The IWD venue will definitely depend on the response I get by 23 February 2014. Future venues will depend on the events, but likely to be city-based to make it easier for everyone.
I can't wait to catch up with you and celebrate our special International Women's Day.
Lots of love (yes, really!)
From Taku