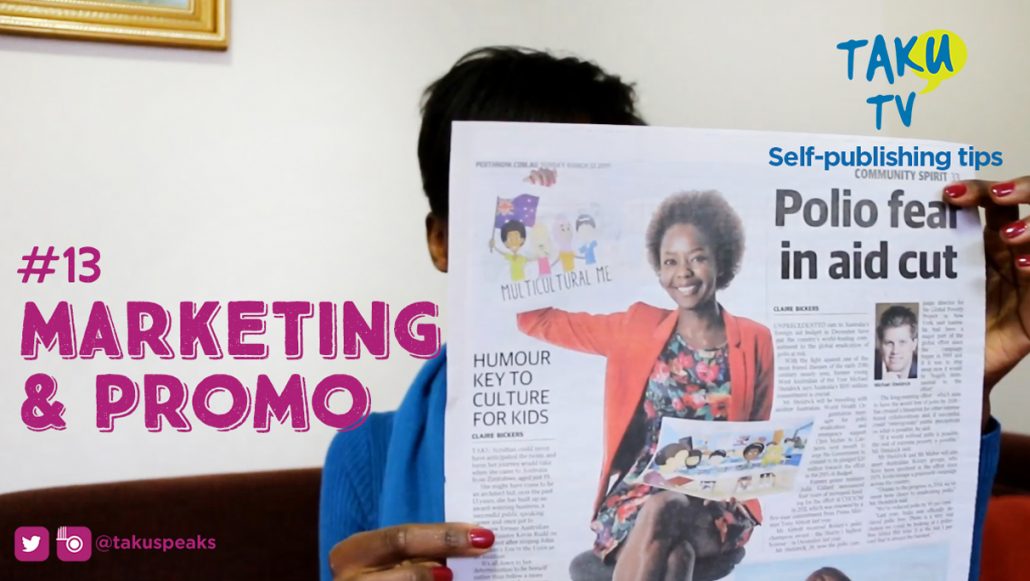 20 self-publishing tips. 20 videos. TAKU TV YouTube.
Fact: self-publishing a book is not for the faint-hearted. A few months ago, I sat on my couch for a couple of hours and filmed 20 tips based on what I learnt from self-publishing my first children's picture book last year.
People kept asking me how I did it so I decided to respond via video. The thought of writing all my tips and feedback was daunting – that's another book!
Self-publishing is not an easy process, but it's very rewarding. I encourage all emerging writers not to give up – your stories are valuable gifts to the world!
Watch Tip #1: Reality check
Self-publishing takes courage, research and determination.
Tip #2 Finances and funding
Don't quit your day job…yet! Self-publishing a book in Australia can be a costly process. Work out how you will find the money to publish your book. Will you work 9-5? Will you apply for a grant? Will you crowdfund?
Tip #3 Research
You need do your homework before you self-publish your book. Weigh up if that's really the route you want to take. Explore what stories other writers are writing and find out who would be interested in your story.
Tip #4 Crowdfunding
Crowdfunding is a great way to raise funds to publish your book, although I recommend having a back-up option. Last year I had an unsuccessful crowdfunding campaign on Pozible (I raised 26% of my $15000 goal amount) but I learnt so much from that experience.
Useful links:
Tip #5 Story
Hold on though, what's the story you will write? Is it non-fiction or fiction? Why is that story important? What's your personal story and the connection to the work you want to publish?
More tips for self-publishers in Australia
If you're genuinely curious the rest of my publishing process, grab a cuppa and watch the full playlist on YouTube. I have fifteen (yes, 15) other videos that cover everything from knowing your audience to different ways of marketing and selling your publications.
I am still learning so much but I am happy share as I grow along.
---
About Me
My name is Taku Mbudzi and I'm an inspirational speaker and writer based in Perth, Australia. My keynote speech, workshop and writing themes include cultural awareness and inclusion, overcoming adversity to pursue goals, entrepreneurship and dreaming boldly.
Read more of my thoughts: http://taku.com.au/blog/ or let's be social: @takuspeaks. (If you have little ones, you can also find my children's book on iBooks).