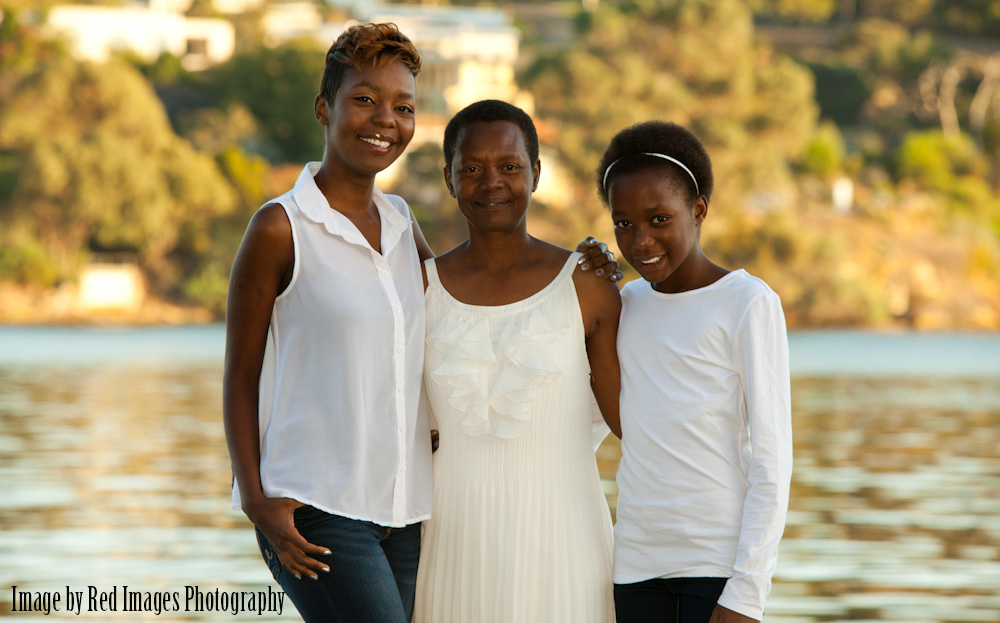 "I realised that when you look at your mother, you are looking at the purest love you will ever know." 
— Mitch Albom —
When you look at this photo, know that you are looking at a dream of mine that came true. All I've dreamt about for so many years is to pose in a photoshoot with my mother and my 12-year-old sister Tendayi…in Australia.
As I smiled into the camera on that chilly Saturday morning by the river, my heart was bursting with love, amazement, wonder and joy. I just couldn't believe it was happening, and the best bit was being able to invite my best friends to share this moment with us.
So is this photo such a big deal? If you've followed my journey or heard my story, you'll know how much my family inspires my work.  They still live in Zimbabwe and the truth is that life is not always easy for them. I took on financially supporting them after my Father passed away and that's been a major motivation in my career and business life.
Today I really felt like writing about Mama and the joy her trip to Australia gave me. I hadn't seen her or Tendayi since 2012. At that time I'd flown to see them in Zimbabwe and things were a little grim. Mama, a qualified psychologist, was still struggling to find work, let alone support herself and the kids. We spent many a night brainstorming ideas of how to get her work in or out of Zimbabwe. But at the time I wasn't in a position to help as much as I wanted to, and nothing came of it.
I flew back to Australia and almost had a breakdown, overwhelmed by the scale of how much life had changed for my family back home and also how helpless I felt. I tried to fundraise, rally friends to help but I just was not coping at all. So life carried on – Mama still jobhunting, and me just sending what I could to help, primarily Tendayi's school fees.
Two years later…life had changed SO much.
Mama finally started to find work opportunities in Zimbabwe, and I found new opportunities in Australia that allowed me to help them more.
So at the start of this year I boldly put Mama and Tendyai on my dream board, and it became a goal to get them to visit Australia. Mind you, it felt like a ridiculous dream. I had no idea how, how much it would cost and the thought of visa applications made me anxious. I had seen enough of my friends bring their families over and longed to see mine too. Something made me want to try, and if the Department of Immigration refused to give them visas, I was ready to take to the streets in protest! (Okay, maybe I wouldn't have been that melodramatic).
Well, the application process was the most painless thing I have ever done! In fact, for a while there Mama thought I was joking and she took a while to start running around with the paperwork on her side in Zimbabwe. And once all the invitation letters, bank statements and forms were submitted, we waited with bated breath.
…then they got the visas. I haven't cried like that in a looooooooooooooong time. I was excited, relieved, scared and happy at the same time.
And so began the holiday of a lifetime for us all. Mama and Tendayi travelled to Australia and for just under a month, they got to see my world. I simply cannot write about everything we did, or this post will be 20 pages long. All I can say is that it was amazing to cuddle my very own mother on Mother's Day – for the first time in 12 years.
I enjoyed this time because we all learnt so much about each other. We've lived apart for over a decade and it was a blessing to grow our different friendships. Mama and I drank tea and shared so many stories and laughs, and I absolutely loved introducing her to my friends.
Tendayi and I also grew our sisterly bond – everything from painting our nails together to late night icecream runs. This holiday was everything that I had ever dreamt of, and I know they loved it as well.
Mama and Tendayi are now back in Zimbabwe and I am still left reflecting on the magic of the time spent with them. They have both taught me so much about life and myself.
And now this fresh energy I have, this renewed hope, this overwhelming excitement about unknown things to come…
…I definitely got it from my Mama.