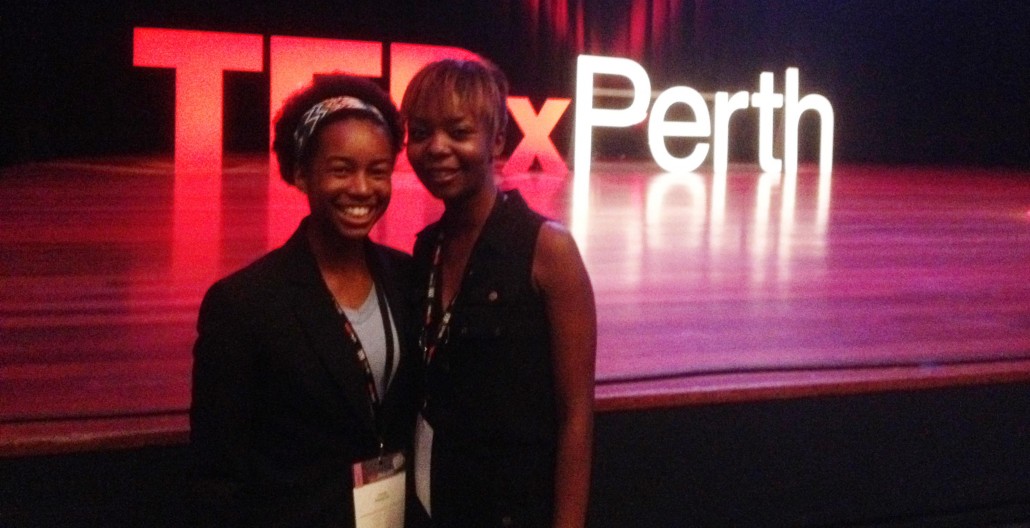 "Shut up and listen…" ― Dr Ernesto Sorilli, Sustainable Development Expert
1. I had to "Shut Up and Listen"
A week or so before TEDxPerth, I was pining that I had no clue how to get on a TEDx stage. I've had this on my dream board for a couple of years and as the event loomed, I felt a bit flat that I wasn't quite there yet.
Then I had an epiphany the night before the event…this year wasn't about me.
So I decided to enjoy my very first TEDxPerth and listen to the stories of others. It was humbling and inspiring to fully open my ears and my heart. I learnt so much being in the audience than I may have if I had been on the stage. And now…I'm happily in no rush.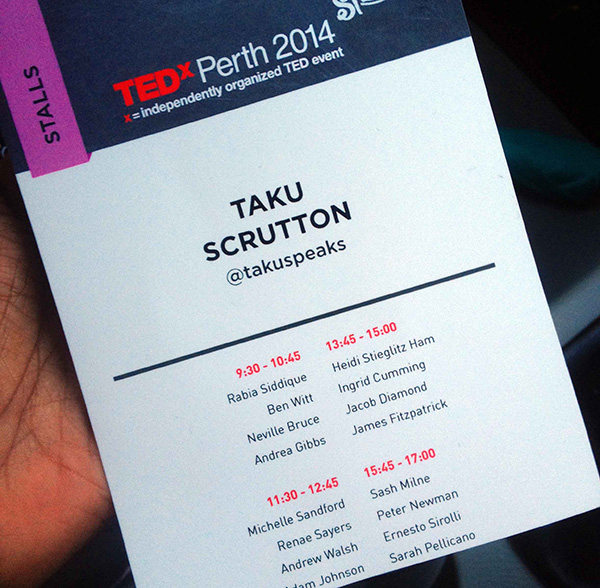 2. Diverse Speaker Program
I loved the varying presentation styles which were used to convey the common themes of passion, curiosity, perseverance, innovation and courage. Every single speaker had a unique gift and they all left me inspired to keep speaking professionally.
I love how the diverse speaker program broadened our thinking about topics from indigenous health to making beer in space!
The women in this group were absolute powerhouses and I felt so proud of them and their stories. Here are the little gems their talks left with me (disclaimer: I may paraphrase if I don't remember the exact words).
Rabia Siddique, Criminal and Human Rights Lawyer
"Everyone can be the ripple that causes waves of change far beyond what they can see". She had amazing stage presence and was a perfect start to the day.
Andrea Gibbs, Comedian, Actress
You simply have to take a chance on life/love even if you look silly in the process. She successfully used giant cards and music in her humorous talk. Loved it.
Michelle Sandford, Technology Evangelist
She visualised herself on the TEDxPerth stage a year ago and then there she was this year. (Very inspiring!) She had the most beautiful and endearing stage presence as she spoke candidly of her work in the technology industry.
Renae Sayers, International Science Communicator
Best use of props by far – she charged onto the stage in bright red hair and proceeded to make blue slime in a glass. Great!
Heidi Stieglitz Ham, Psychologist
Best use of video and interviews in her presentation. She focused on how we can do more to embrace adults with autism in our community. She has a gorgeous heart.
Ingrid Cumming, Custodian, Traditional Owner of Whadjuk Nyungar Country
"When non-indigenous people and indigenous people come together they make beautiful things." What a bold, courageous story of standing up and celebrating her indigenous Australian culture. Great use of humour in her presentation as well.
Sash Milne, Social Change Activist, Writer, Blogger, Photographer
Oh I just wanted to give her a hug! "The Economy of Human Connection" is a beautiful concept of valuing community and human connection over consumerism.
A couple of speakers received standing ovations, including Dr Ernesto Sirolli. He was humorous, wise and gave insight into a simple solution to many problems…"Shut up and listen before you can really help people". Here is a video of his 2012 TEDx Talk that has garnered 2 million+ views – it shows his presentation style and similar message to the one he shared in Perth.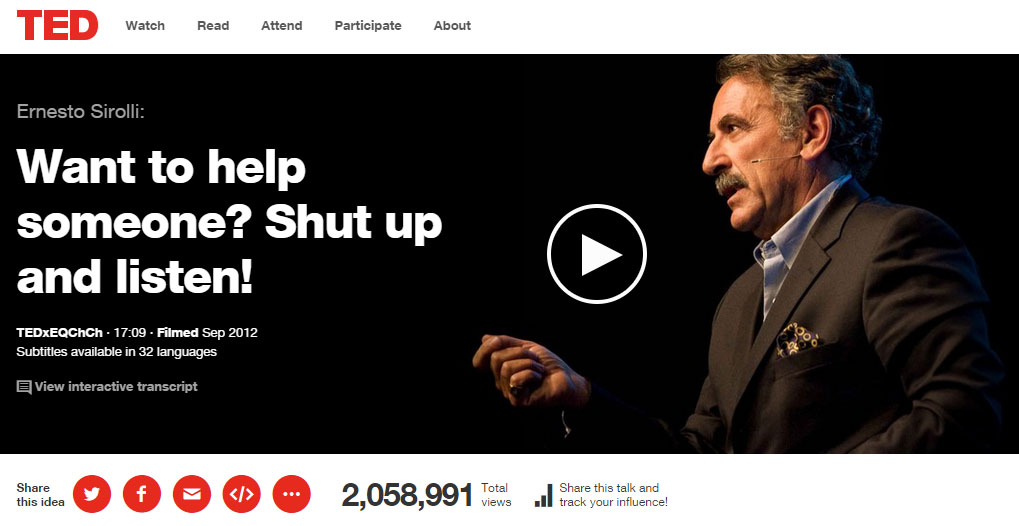 Other speakers included:
Andrew Walsh, Astronomer
James Fitzpatrick, Consultant Paediatrician, Researcher and Entrepreneur
Neville Bruce, Principal and Co-founder of Education for World Futures
Adam Johnson, Entrepreneur
Peter Newman, Sustainable Development Expert
Visit the official TEDx Perth website to read their full profiles.
3. Magic MCs and Music
There were four MCs during the day and each did a great job of carrying the flow of the event. Their use of humour, quick facts and audience interaction were superb.
It was a good idea that they also broke up the talks with musical performances. How wonderful to see Perth's young emerging artists getting a chance to shine. Jacob Diamond – wow, what a gift you have!
4. I felt Connected to a Global Goodness
Sitting in that hall I realised that TED talks occur around the globe and I was now part of something bigger than myself in little ol' Perth. The TED initiative globally connects like-minded thinkers, doers and feelers in a special way. Everyone who speaks, and everyone who listens via TED Talks has a heart to do something good. I love that warm and fuzzy feeling.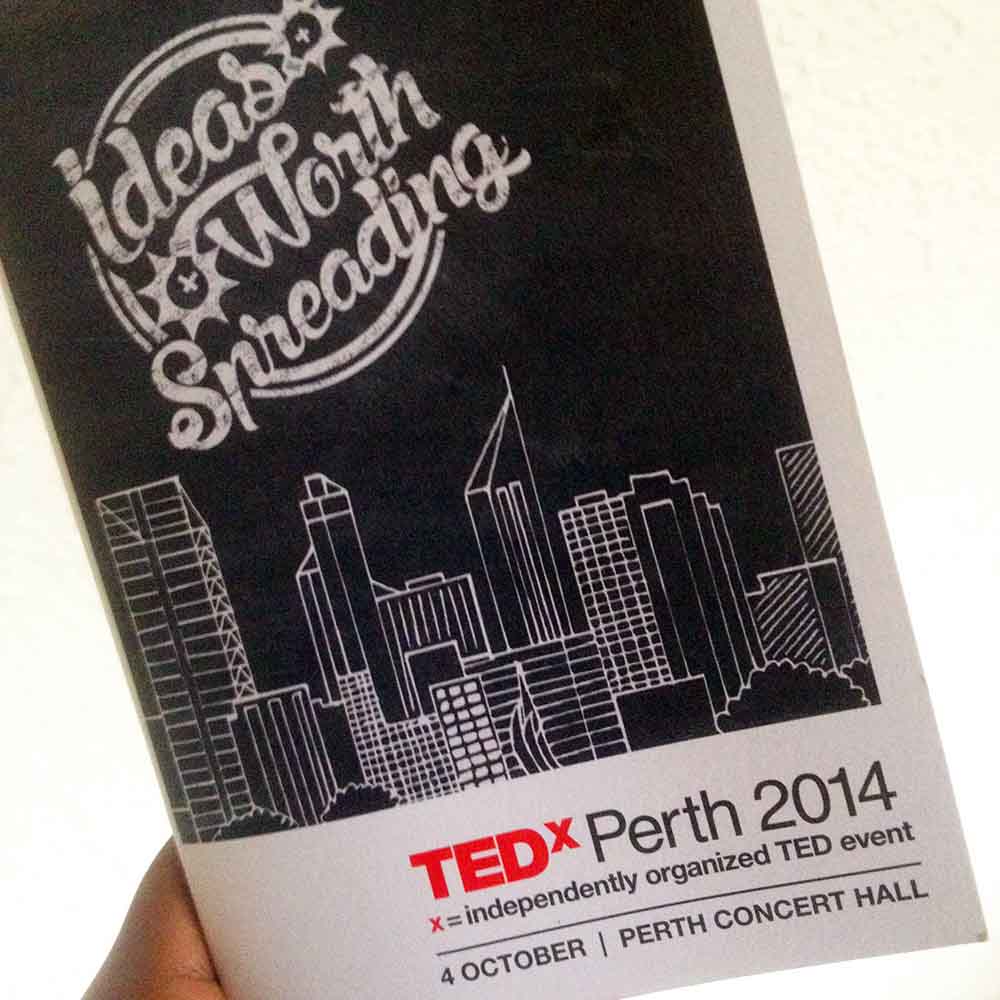 5. Young People were Welcome
Taking my 16-year-old niece Thabi to TEDxPerth was a double whammy of inspiration for us both. Thabi is passionate about changing the world, youth issues and politics. She is currently a Young Member of Parliament in Western Australia and an avid public speaker. She had never heard of TEDxPerth and she enjoyed it so much. We spent the day giggling, laughing and making new friends. I am so happy to have shared that with someone, especially a young person who wants to make a difference in our world.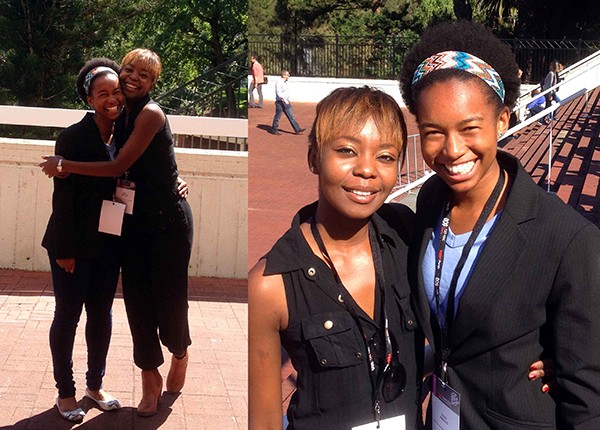 6. Fellow Audience felt like Friends/Family
There was a happy, friendly, positive energy in the audience. It was fun and painless to strike up conversation with fellow attendees whilst queuing up for coffee or waiting for the next presenter to start. It honestly felt like there was an unwritten, but very real, awareness that we are all friends, we all hope for the same things, we all have so much to offer, we all want to offer it and we are open to trying. Yay for humanity!
7. 30 Seconds to Pitch your Idea
I looooooooooooooooooved this idea! They announced that audience members could apply to share their ideas on stage for 30 seconds each. Speaker Taku immediately jumped and thought "Yay, I could be on the TEDx stage after all!", but Listener Taku decided to stay in her seat. There is something wonderful about literally not speaking and hearing what other hearts are saying. And from that I heard ideas that really touched me…my favourite being giving young people [free] tickets to conferences and seminars just like TEDxPerth.
8. Ohhhhhhh that's how Twitter really Works?!
I am not a big Twitter user, because I still don't quite understand it. (Yes, I can hear you gasp at the stats below!)  Well, I finally engaged my hidden Twitter Super Powers during TEDxPerth and saw how using hashtags, retweeting other people's tweets and photos really works and feels. I loved how I had moments of inspiration, I'd go to tweet them…and somebody else would have beat me to it…so I just retweeted theirs. I also like how I found new people to follow via this process, and some people found me too. Awesome indeed…there's hope yet.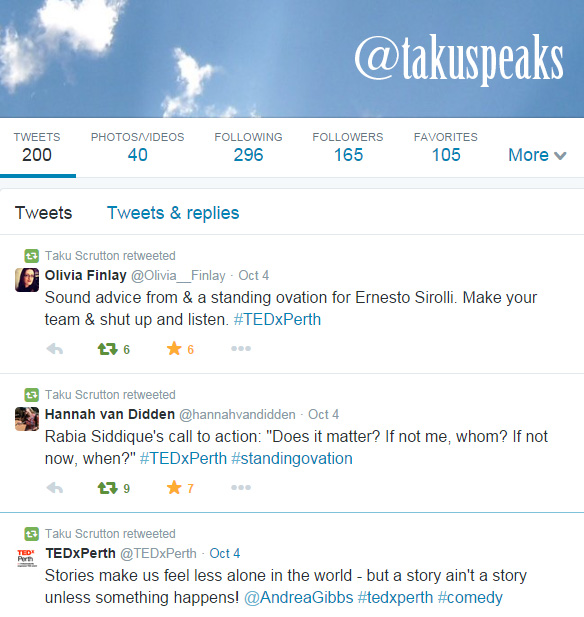 9. Halleluiah – they Fed Us!
It seems like such a simple thing, but I thought the catering was pretty good. No one wants to listen to a whole day of inspiring stories on an empty stomach and with low blood sugar levels! The cakes, sandwiches and fruit made sure we didn't get hangry (hungry + angry) before we went out to change the world. :)(FYI, Newton Orchards of Manimup donated 180kgs of "waste" apples and pears to TEDxPerth 2014 – they were delicious!)
10. The Venue Worked
Perth Concert Hall proved to be a great venue with all its different spaces being used. I loved that the weather was sunny and bright and we could eat our lunch on the stairs and watch bicycle polo (yes, bicycle polo). Or we could have intimate Q and A sessions with the speakers just outside the theatre. Or we could saunter through the installations on the verandahs. The acoustic and audiovisual set up  in the theatre itself were also excellent – we could see and hear everything clearly.
It was encouraging to see universities, local businesses and corporations supporting the event. (A few of them had interesting installations spread out around the venue).
11. (Bonus Point) The TEDxPerth Team Cared
The team and their volunteers were fabulous and friendly. When I first went to the registration table we had to line up depending on our surnames e.g. A-H in one row, I-M in another etc. I found it so sweet (and hilarious) how one uber-keen volunteer came to check my ticket and my surname to usher me to the right queue. (Just in case I didn't know my surname started with 'S').
Thank you to him and the other awesome volunteers whose energy and enthusiasm made it such a great day for everyone. Your professionalism and the standard of the event you produced are really commendable.
Thank you TEDxPerth and here's to more ideas worth spreading!